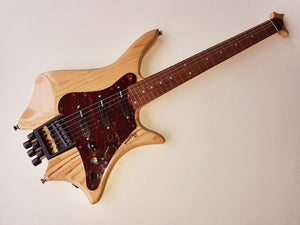 This guitar is totally hand made, has 6 or 7 strings, a scale length of 640mm, 24 frets and sleek sculptured contours.

The wood used for the one piece neck and body is Kauri Pine which is sourced from Australia, This wood is light weight, very strong, stable and has similar tonal properties to Alder.

The Fretboard is a dark "Australian Blackwood" or "African Walnut" depending on whats available. The bridge is machined from aluminum and has 6/7 tuning knobs

The 3 Pick Ups are Korean made WSC's, high output single coils or combination of humbuckers. (please enquire for price to include high end pick ups)

The wiring allows independent volume/tone and 5 way toggle switching.
Neck width at nut 42mm. String spacing at bridge 10.5mm, at nut 7mm. Body thickness 40mm. Weight 3kg (6.6lbs).